100 families over 100 days initiative
06 May 2016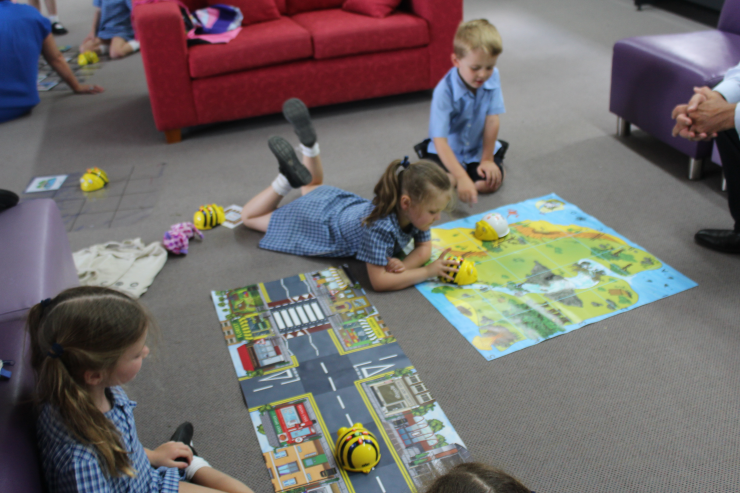 On Wednesday 9 March 2016, the parents and teachers of Our Lady of the Nativity (OLN) began the day in a unique way, gathering for a breakfast of sausages on a roll, as well as the all important morning coffee or tea. This was to celebrate Catholic Schools Week and launch the '100 Families over 100 days' school initiative.
The aim of the initiative is to provide parents with the opportunity to view and discuss learning at Our Lady of the Nativity school. On Day 1 there was a breakfast chat with the teachers. After this the parents met with the school Principal, Mr. Michael Cowley, and the Religious Education Coordinator, Mrs Joanne Potts, to hear an overview of learning at our school. This was followed by a tour of each learning space. After which there was a sharing time to reflect on what each had seen. Over the next 99 calendar days parents who could not visit on Day 1 will have many other opportunities to book a group tour of our learning spaces and bush playgrounds.
Mrs Moore stated, "The school was calming and nurturing and the morning was very informative."
Mrs Camilleri said she was amazed at the students' work and the school was looking to improve even more.
The students reported how they enjoyed the fact that so many parents were interested in their work and how they learn. Stage 3 student Madeleine Moore summed up the feelings of students saying, "I was honoured to see how impressed the parents were with the work we have been doing."
Mr Michael Cowley told Stage 3 students that he was very happy so many parents came to school to see what learning at OLN looks like today – quite different to their own experiences of school.
By Anna Andrews, OLN Year 6 student.
FaceBook
22 Sep 2022

Happy happy birthday to this awesome young lady today!! I hope you have had a fabulous day celebrating with your family and friends and there is plenty of yummy cake to eat. I can't wait to hear all about your birthday stories. 🎉🧁🎈👏🏻🎁🎊

21 Sep 2022

Happy happy birthday to this awesome young man today! I'm sorry I wasn't at school to celebrate with you but I'm sure you had a fabulous day celebrating with your friends! Enjoy your evening with family- I hope there is cake! 🎊🎁🎈🎉👏🏻🧁