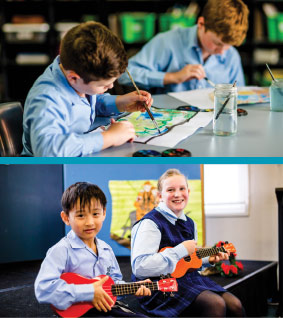 Students at Our Lady of the Nativity are treated with dignity and respect.
At our school we maintain a safe, supportive and protective learning community, and actively promote student safety and wellbeing. The school's policies and procedures for student wellbeing are based on the National Safe Schools Framework (NSSF). At OLN this includes Positive Behaviour for Learning and the elements of Restorative Practice. Expectations are explicitly taught to our students and highlight:
Safety
Respect
Responsibility
Communication.
Individual plans are developed for students requiring more intensive support.
---
Pastrol Care Initiatives

Pastoral care initiatives include:
the establishment of a dedicated student wellbeing position on the leadership team
a whole-school student wellbeing system, where students' behaviour is monitored by class teachers and team leaders
a recognition and celebration system that recognises and celebrates the achievements and efforts of learners
ensuring individual student's social, academic and emotional needs are identified and responded to positively
working collaboratively with the school counsellor and parents
providing a variety of playground areas to allow for passive and active play
ensuring access to technology for students who do not have this available at home
a transition program for Kindergarten students
a buddy system for Kindergarten and Year 1 students
fee relief where financial hardship is established, and payment plans for families experiencing financial difficulties.
We also run a 'Toddler Group' at school for our families which provides a valuable experience in terms of school readiness and community building. The group meets on Mondays 9 – 11am. Children do activities and have fun while parents/carers have a chance to chat over a coffee.
---
Building Child Safe Communities

Our Lady of the Nativity is committed to keeping our students safe at school and we adhere to the National Catholic Safeguarding Standards and support the National Principles for Child Safe Organisations. A range of checks and undertakings are required for people who work for or provide services to the school. These checks reduce potential risk and form part of the Catholic Education Diocese of Parramatta (CEDP) strategy to build child safe communities.
Learn More